Hthp jig dyeing machine push type
Product Detail
Product Tags
| | |
| --- | --- |
| Rolling diameter | φ1400mm |
| Roller width | 2200mm |
| Efficient width | 2100mm |
| Speed | 0~130m/min |
| Tension range | 0~65KG |
| Temperature control range | 0-135℃ |
| Rolling roller diameter | φ325mm |
| Motor power of main roller | 2 sets are 15KW |
| Tank body mobile motor power | 0.75KW |
| Motor power of circulating pump | 2.2KW |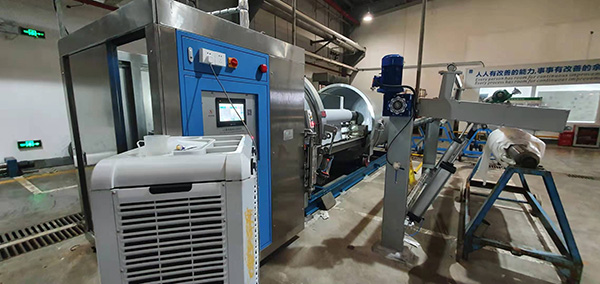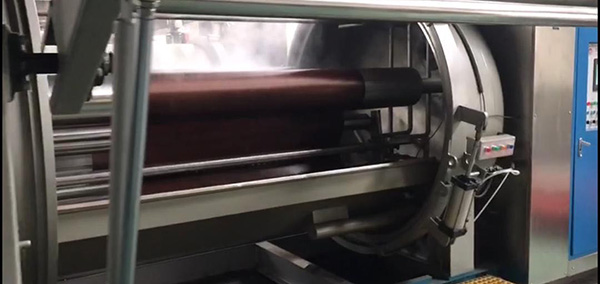 1. Whole machine is dual frequency converter control system, human-computer operation interface.
2. Set of constant tension, constant linear speed.
3. Functions of manual, automatic, speed up, slow down.
4. Automatic head back, automatic record the lines, automatic stop machine, automatic swing function if line is full.
5. Whole machine automatic temperature control, technological operation.
6. Operation screen programmable set, technology storage, automatic identification, automatic alarm.
7. Liquid level automatic control, automatic charging, automatic circulating.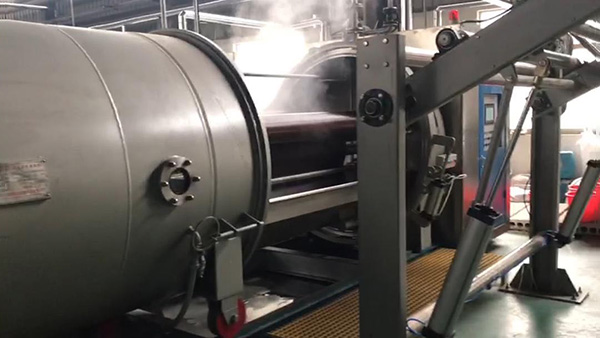 High temperature jig dyeing machine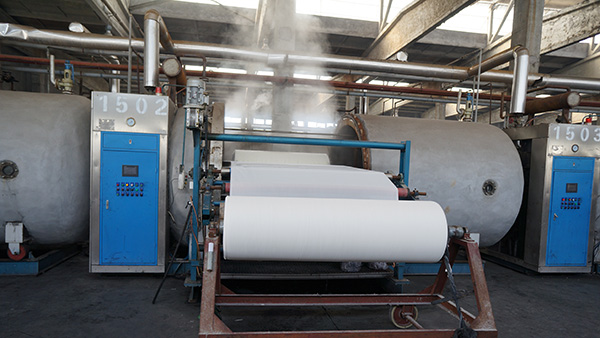 Jig dyeing machine with insulating 
Electric appliance and machine layout
| | | |
| --- | --- | --- |
| 1 | Controller | Japan Omron PLC |
| 2 | Frequency converter | 2 sets of YASKAWA frequency converter are 15KW |
| 3 | Operation interface | 10 inches WEINVIEW Colorful touch screen(Taiwan) |
| 4 | Electric | SS electrical control cabinet, Schneider electrical element(France) |
|   | Encoder | AKS |
| 5 | HT-HP Tank body | Made of SUS304, hoop construction design, designed pressure 0.35Mpa, designed temperature: 140℃, there is pressure vessel license, manufacturing based on the State pressure vessel standard |
| 6 | Main rolling roller | Dia. 325mm, coated with SUS316L, 2.5mm |
| 7 | Dyeing Tank | Made of 3 mm SUS316L |
| 8 | Tension frame | Spring type, made of SUS316L |
| 9 | Chemical dye system | Chemical barrel isφ500*500, made of 2mmSUS316L, with stirrer |
| 10 | Heat exchanger | External tabulation heat exchanger |
| 11 | Main roller motor | 2 sets of K77-Y7.5-12.63 link type motor reducing gear |
| 12 | Mobile motor | R77-Y0.75-145-M1 motor reducing gear |
| 13 | Circulating pump | BF40-50-2.2KW SS circulating pump |
| 14 | Magnetic valve | AIRTAC pneumatic magnetic valve |
| 15 | Drain in/out valve | SS pneumatic ball valve |
| 16 | Inlet/exhaust valve | SS pneumatic angle valve |
| 17 | Mechanical seal | 104-80 |
| 18 | Safety device | Equipped with safety valve, pressure gage, manual safety valve, pneumatic safety lock |
| 19 | Temperature probe | Equipped with high precision PT 100 thermometry resistance, WZP-221 |
| 20 | Under frame construction | Whole is carbon steel under frame mechanism, equipped with slide guide roller |
| 21 | Liquid level measurement | UZ type magnetic Perble liquid level measurement |
| 22 | Winding Frame | Made of Stainless steel |
Viscose jig dyeing machine
---
---
Write your message here and send it to us