Low bath ratio sample dyeing machine-1 kg/cone
Product Detail
Product Tags
This series low bath ratio sample dyeing machine suitable to polyester, cotton, nylon, wool, fiber and all kinds of blended fabric cone dyeing, boiling, bleaching and washing process.
It's auxiliary product for QD series dyeing machine and GR204A series dyeing machine, sample dyeing 1000g cone, and the ratio can be same with normal machine, sample formula color reproducibility accuracy can be reached above 95% compare with the normal dyeing machine. And the bobbins are the same with big machine, no need to purchase special bobbin or special soft-cone winder.
This low bath ratio sample dyeing machine also can dye small amount fabrics.
We can customize the models to match customer's request.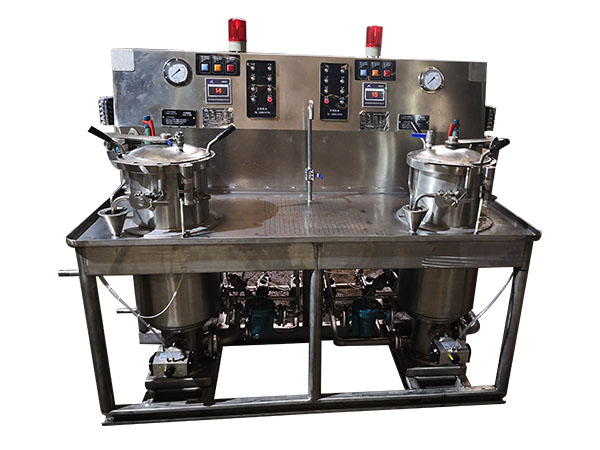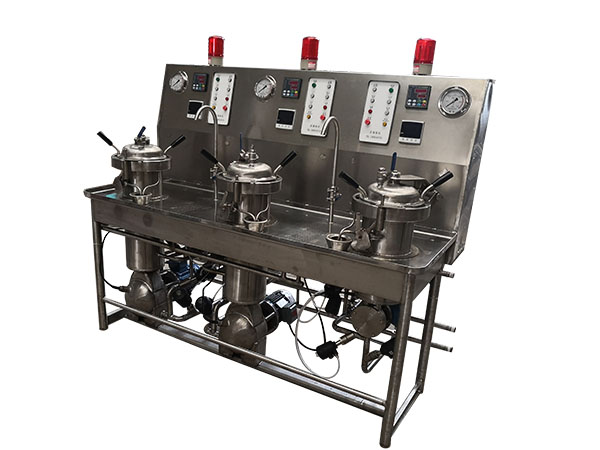 3kg cones low bath ratio yarn sample dyeing machine 
1. This low bath ratio sample dyeing machine is energy-saving design, compact structure. Can add to the same frame from 1set to 8set, easy to operate and space saving. Each head can be put.
2. Bath ratio can be adjusted among 1:3 to 1:8(add water by measuring glass).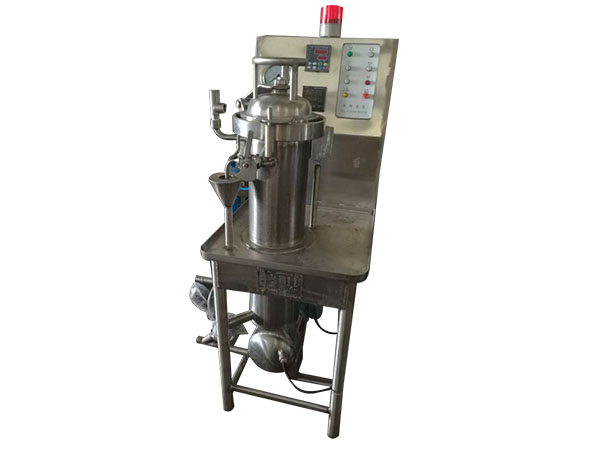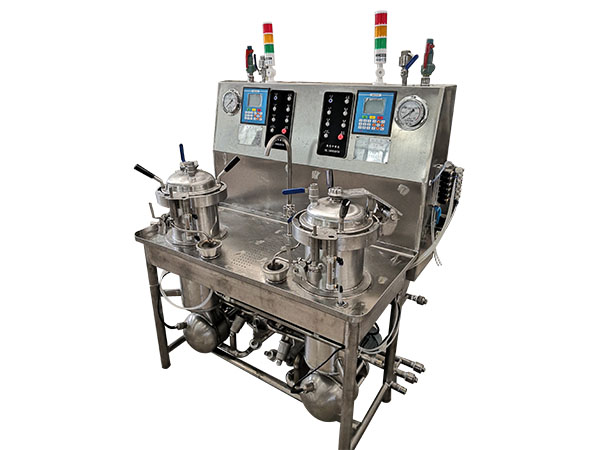 Two heads cone yarn dyeing
1. Design temperature:145℃
2. Max. working temperature:140℃
3. Design pressure:0.5Mpa
4. Max. working pressure:0.45Mpa
5. Heating rate: 20℃→135℃ about 40mins(steam pressure is 0.7Mpa)
1. Main cylinder adopts SUS321 or SUS316L high quality austenitic stainless steel.
2. Equipped with mechanical sealing high efficiency big flow centrifugal pump.
3. Vertical cylindrical cylinder, rotates, quick lock cylinder cover, manual open and close cover.
4. Efficient outer heater.
5. Equipped with all kinds of relevant pneumatic, manual valve.
It is always an important topic in dyeing production to improve the color accuracy of small sample. The accuracy and similarity of sample proofing obviously affect the hit ratio of large sample lofting, and also determine whether it can adapt to the rapid delivery requirements of the current market for marketing more and more prominent, the performance of sample proofing equipment and its variety adaptability, is also the basis and premise to solve the lofting work.
Different from Hank yarn and loose fiber dyeing, there is a very important technological factor that affects dyeing quality - winding density. This is not something small prototypes can test and investigate. Therefore, a medium prototype is generally available. Medium sample machine for cheese dyeing, the dyeing capacity is usually 1-3 bobbin. If the color coincidence rate of the small sample and the large sample is very high, you can skip the middle sample link and directly enlarge the sample. However, the similarity and control degree between medium machine and large machine in dyeing form and process conditions, as well as the reflection of problems, are almost the same, so the similarity degree between the two in color is very high. It is ideal and reliable for lofting.
It should be said that the similarity and imitability between small sample and large sample is much higher than that between fabric dyeing in the main dyeing process conditions, such as bath ratio, temperature, time, PH value and so on. With the auxiliary lofting of medium sample bobbin dyeing machine, lofting should basically achieve a higher "one success" rate. However, we should see that dyeing is a systematic engineering, including fiber (raw material), spinning, dyeing additives, as well as winding, dyeing, drying and process design, car operation and execution, site management, equipment maintenance and other aspects, many links, are different in the weight of the impact.
---
---
Write your message here and send it to us